Taking a Dip in the Pool in the Summer of 2020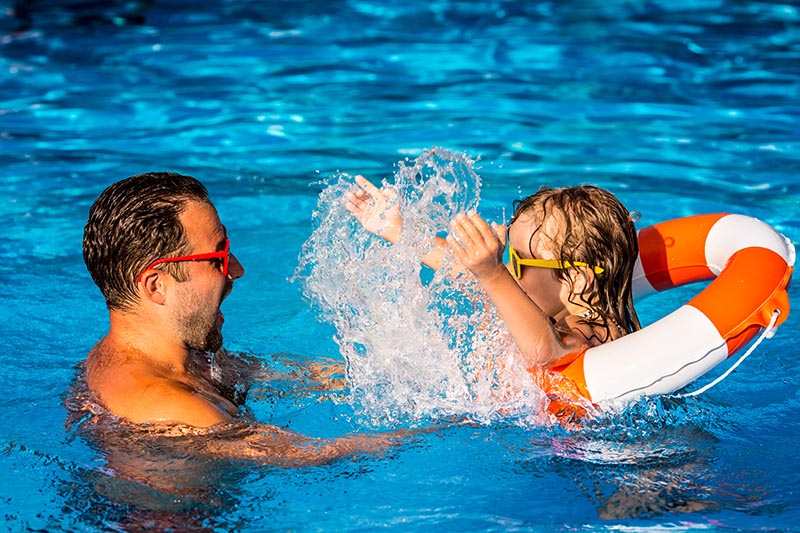 Summer is here! With warm temperatures and sunny days comes the opportunity to enjoy a nice refreshing dip in a pool. With COVID-19 still impacting the health and routines of most Americans, here are some tips to take a dip in the pool safely.
Public pools
Public aquatic facilities, including water parks and splash pads, are required to follow local guidance about opening and social distancing. Once your community opens these facilities back up, you should follow all rules about maintaining at least six feet between other pool visitors. You can ask to see the pool's latest inspection to make sure that it is well-maintained and that the facility applies the correct amounts of disinfecting chemicals.
If you are sick, stay at home. The chemicals in pools are designed to kill many germs, but just coming in close contact around the facility can be enough to spread illness. Illnesses that cause diarrhea can be particularly troublesome when swimming.
Swimming at home
The increased time that most Americans are spending at home is a great opportunity to enjoy some time in a personal use pool. If you have a permanent pool erected, keeping up with the maintenance and regularly checking the chemical or salt levels can keep it in the best shape possible. You can do this yourself or hire a company to inspect and correct your pool's water periodically.
If you are using an inflatable of kiddie pool, you should opt for changing the water frequently over using chemicals to disinfect it. The CDC recommends keeping pool users to the same family group, as larger groups have a great chance of spreading illnesses through the untreated water. Empty the pool completely and let it dry before using it again. This will help keep any germs from festering in the water.